Madrid
The most delicious tapas route around the La Latina district of Madrid

---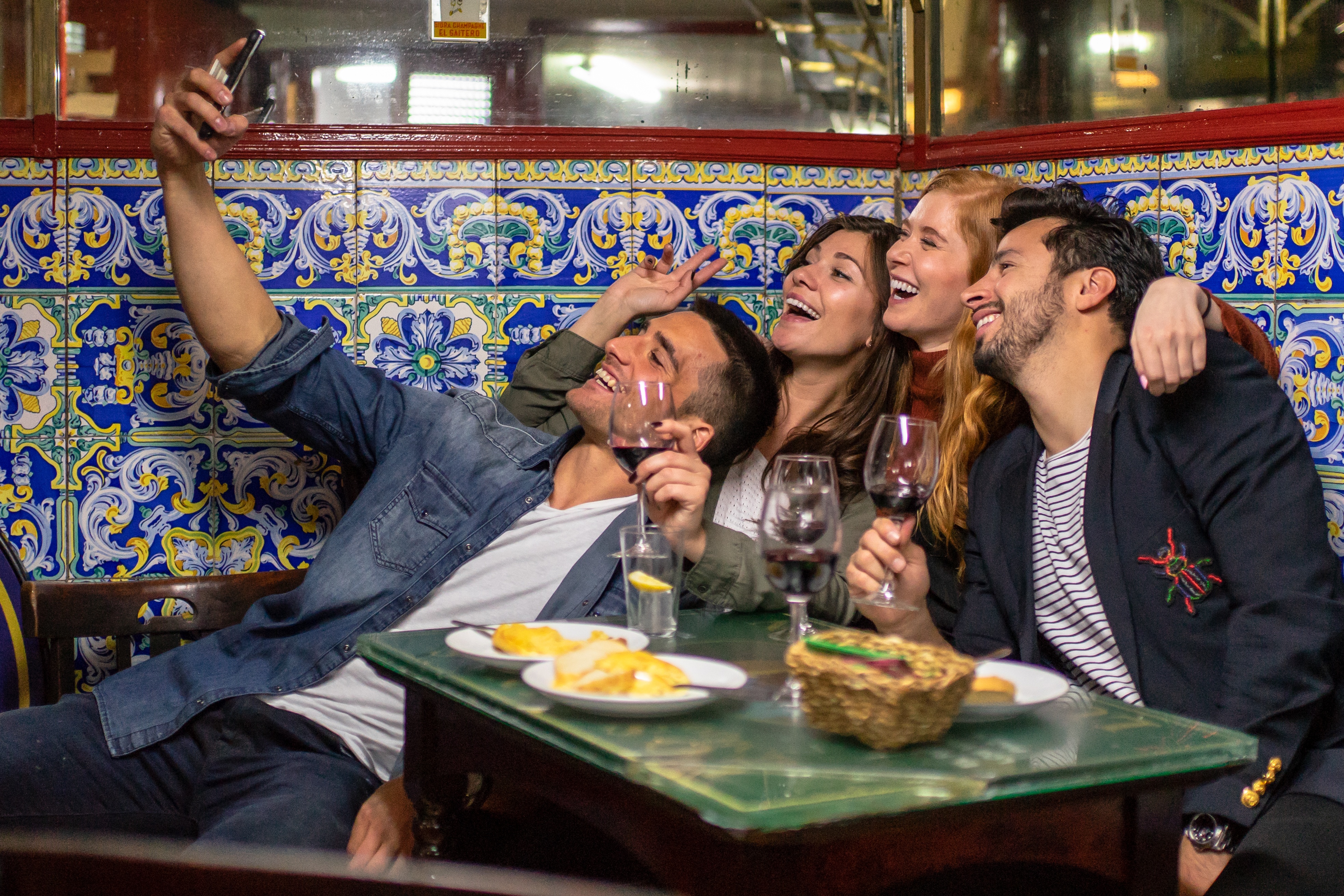 Going out for tapas in the La Latina district in the heart of Madrid is one of the best culinary activities you can do in the capital on any day of the week. Wandering the streets in search of bars and terraces for the best tapas and pinchos (Basque tapas) is an adventure in itself, so having some guidance on which ones to visit will save you from running around like a headless chicken.
If you decide to do a tapas route around La Latina at the weekend, we recommend you start early (at 1:00 pm for lunch and at 8:00 pm for dinner). If you nod off for a bit, then you may not get a seat in some of the best restaurants and bars. Among our favourite places are the following: we suggest a route so that you can do it at your own pace, although they are close enough for you to do it in whatever order you like.
If you would prefer to do the tour accompanied by a guide who will explain all the neighbourhood's curiosities, then we recommend a bespoke tour with us.
Furthermore, if you are a true aficionado of Spanish cuisine, then you can't miss out on these two experiences:
Flamenco, tapas, paella and 'toros' tour in Madrid
Tapas tour around La Latina, Los Austrias and Las Letras with wine tasting and a relaxing time on some of Madrid's best terraces.
Start the night off with views from El Viajero
Just a few steps from the La Latina metro station, you'll find El Viajero. Its terrace offers some beautiful views of the Real Basílica de San Francisco el Grande, especially if you go when it's getting dark. The restaurant is famous for its caramelised onion gizzard, accompanied by red wine or a small beer for the warmup.
Location: Plaza de la Cebada, 11
Tortilla at Txirimiri
Crossing Plaza de la Cebada, we come across Txirimiri, a Basque pinchos tavern, with snacks and Spanish dishes, famous for its potato tortilla. Such is its success that it's always full of people, so if you want to try its full range of dishes, go early.
Location: Calle Humilladero, 6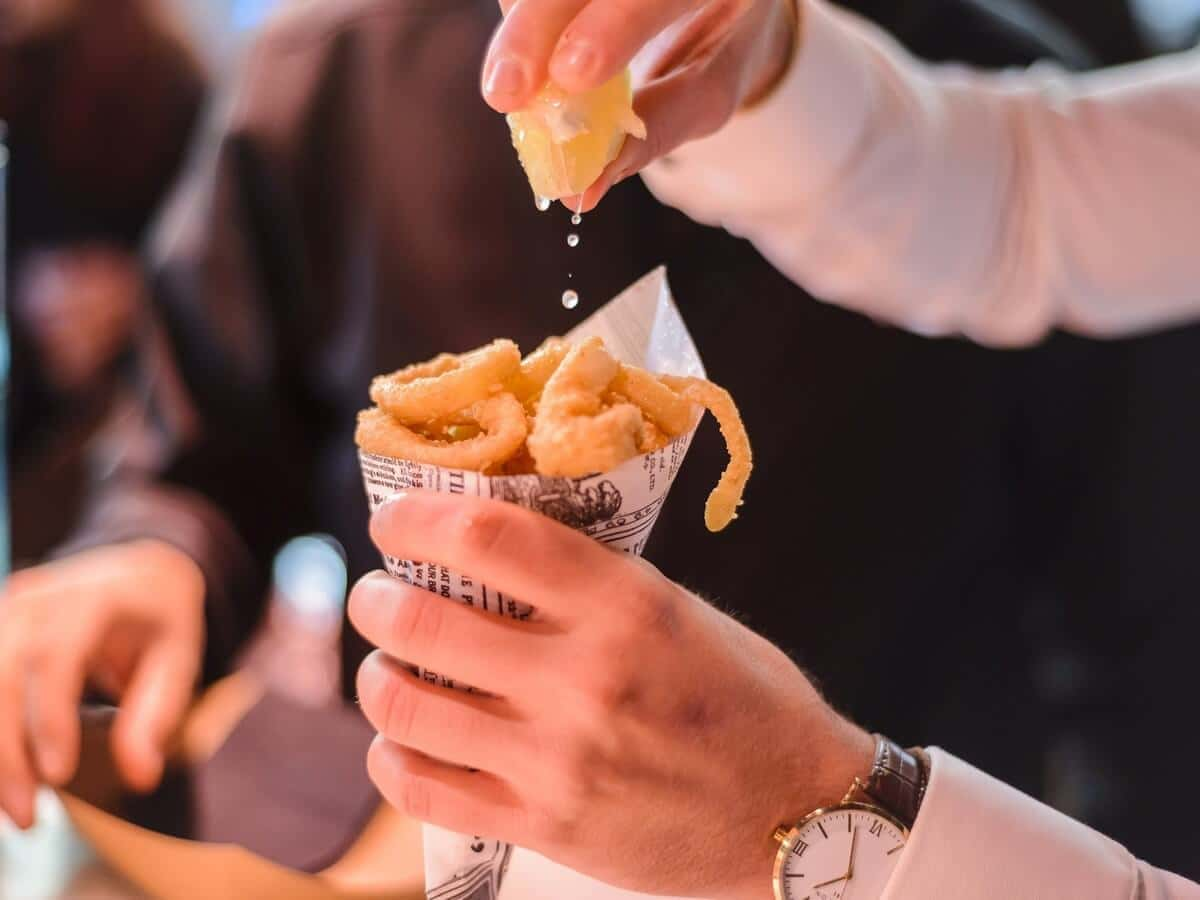 'Huevos rotos' at Casa Lucio
This is without doubt the most famous restaurant in the whole of La Latina, so if you want a table then you must reserve. On its menu you'll find the most famous, delicious fried eggs around, although you'll pay the price of gold for them.
Location: Calle Cava Baja, 35
Txakolí, the long-standing Basque tavern
Another must-visit Basque tavern is Txakolí, with its larger than normal pinchos. Its prices are also a little high, but its cider, cod and house dishes are well worth it.
Location: Calle Cava Baja, 42
To Andalusia and back with El Almendro 13
El Almendro 13 is a popular Andalusian tavern in La Latina. It also has fried eggs as its star dish, so if you couldn't get into Casa Lucio, you'll get another chance here. You'll fall in love with its cazuelas (casseroles), salmorejo purée, roscas (giant bagels) and beer. It's usually very busy, so if you can't get in then next-door (Calle Almorejo, 9) is el Fogón de la abuela, a bar with delicious homemade food.
Location: Calle Almorejo, 13
Cheese and cold meats at Casa Dani
A little further away you'll find Casa Dani, the stroll will help your food go down and you'll be able to enjoy the atmosphere of La Latina's streets. There's no cooking in this bar because there's no need as they are specialists in high-quality cheese and cold meats. You'll be charmed by the marble tables, the gas lamps, the glass cooler and the walnut wood bar.
Location: Calle Calatrava, 11
All that's left is the seafood in La Paloma
On your way back to the metro, make a final stop at the La Paloma seafood restaurant, a popular stop-off in the city for grilled prawns. Its popularity is proved through the amount of prawn heads and serviettes on the floor. No matter how full you are, you're bound to have room for these.
Location: Calle Toledo, 85
Tapas tour in Madrid with World Experience
As you will have noticed, you need to book ahead or face long queues in many of the bars and restaurants we recommend in La Latina. So that you don't go hungry, and don't have to worry about arriving on time, we recommend a tapas tour of Madrid with us. A planned route with a guide will be fun, relaxing, and of course, delicious!