Madrid Attractions
7 terraces in Madrid you didn't know existed

---
Having a good time on a sun-drenched terrace with great company, some tapas and a little something to drink is one of the best customs Spain has to offer. Madrid is a great example of this philosophy; its people are experts at finding time to enjoy something whilst watching the world go by, whether it's at the weekend, after work, or after class.
The problem is that the most popular terraces, and those found on the main streets, fill up in the blink of an eye. However, there are also many terraces hidden away from the masses.
Below, we discover 7 of Madrid's lesser known terraces. If you want to experience Madrid's authentic culinary scene, visit one of these terraces… or go on a walking tour for sweets lovers! The best way to try the famous chocolate with churros (hot melted chocolate with donut-like snacks), is with us.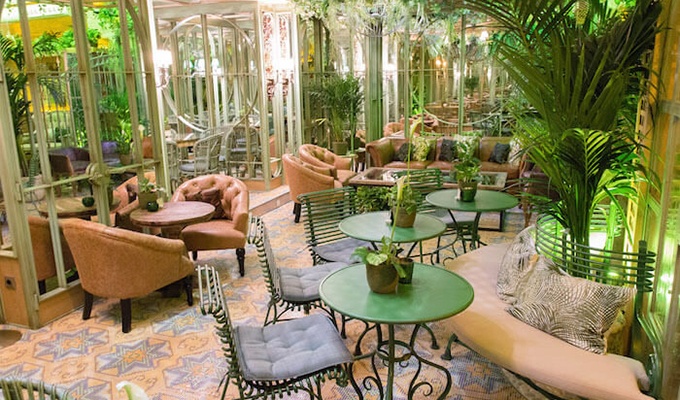 El Jardín Secreto and la Sala del Té de Salvador Bachiller
It's incredible that one of the quietest places in Madrid can be found on one of its busiest streets. What's even more surprising is that it's located in a shop that sells handbags, purses, accessories and decor.
On the third floor you'll find the Tea and relaxation room, and if you want some fresh air, there's a terrace full of flowers with a garden and some shade on the fourth floor. They offer drinks, ice creams, milkshakes, breakfast, snacks and even lighter options with salad or gazpacho.
Location: Calle de la Montera, 37
El Café Jardín del Museo del Romanticismo
Madrid's Museo del Romanticismo will show you what life was like in Spain in the nineteenth century, with works from greats like Bécquer, Goethe and Rosalía de Castro. What many people don't know is that in its garden you can find a beautiful café and tearoom with cakes and homemade pastries.
You don't need to pay for entry into the museum to access the Café Jardín (Garden Café), so if you're ever stuck for somewhere to have breakfast or a snack, consider this place.
Location: Calle San Mateo, 13
La Casa Encendida terrace
Casa Encendida is a social and cultural centre, close to Lavapiés which has a modern terrace serving cocktails, smoothies, beer and much more.
Its cultural activities make this terrace truly special. For example, on Saturday afternoons you can enjoy an open-air cinema, whilst on Sundays the place is full of alternative music thanks to its famous 'Soundays'.
Location: Ronda de Valencia, 2
The Hat's hidden rooftop terrace
The Hat is a designer hostel situated one minute from Plaza Mayor. Its rooftop hides an enchanting terrace with wooden chairs and tables, which you can access without staying at the hostel.
It's a great place to go for a drink or for dinner, with original dishes such as the beetroot brownie or mango and chutney cheesecake; they change their menu every season. Don't miss out on their cocktails.
Location: Calle Imperial, 9
La Tita Rivera: A secret patio in Chueca
This will probably be one of the better-known terraces in the article as its brunches are becoming increasingly popular, but we are obliged to recommend this very original bar-restaurant.
Its speciality is "casis", delicious buns filled with garlic prawns, squid and Iberian pork. "Latitas", a curious way of serving sangria, summer red wine and other drinks, also stands out. If you're a smoker they have an indoor terrace for you.
Location: Pérez Galdós, 4
Do you want to learn how to make tapas, paella or sangria? At World Experience we offer you a gourmet cooking class you'll never forget.
La terraza del patio de los arquitectos
Are you passionate about design? At the Colegio Oficial de Arquitectos de Madrid you will find Bosco de Lobos, an elegant and tidy terrace, with a large bar made of natural wood, white-marble tables and vegetation.
Its speciality is Italian food, be it for brunch, a snack or for dinner. It's also a popular meeting place.
Location: Hortaleza, 63
The rooftop terrace of Forus Barceló gym
On the terrace of Forus gym, in the Mercado de Barceló, you'll find a cool terrace which is rarely full. It's mainly intended for gym goers so you won't find patatas bravas or hamburgers here, just healthy food!
If you love salads with superfoods, vegetable soups, natural juices or raw meat like tuna Tataki or beef Carpaccio, this is the place for you. Even if you're not coming for the exercise!
Location: Barceló, 6