Barcelona Experiences
Funicular of Sant Joan: Everything you need to know

---
The funicular railway of Sant Joan is one of the funiculars of Montserrat, together with the rack railway and the funicular of Santa Cova. Its views make it on of the 10 most memorable places to visit in Montserrat and rise to more than 1000 metres of altitude, making an unforgettable experience.
We invite you continue reading to get to know its history and how you can enjoy the service to this day.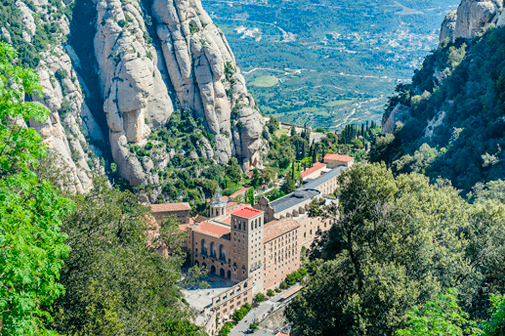 History of the Sant Joan Funicular
The first funicular of Sant Joan was opened in the year 1918 and linked the outside of the monastery of Montserrat with the hermitage of Sant Joan, located in the high part of the massif, where a viewpoint and restaurant was built.
Their success led to the construction of a new one following the same route 8 years later. They took advantage to double the capacity of the cabins and the track gauge became 1000mm.
In the 1980s the Sant Joan funicular became part of the Catalan regional railway network and the cabins were remodelled. Since then, the cabins have been modernised alongside the carriages but their original essence remains.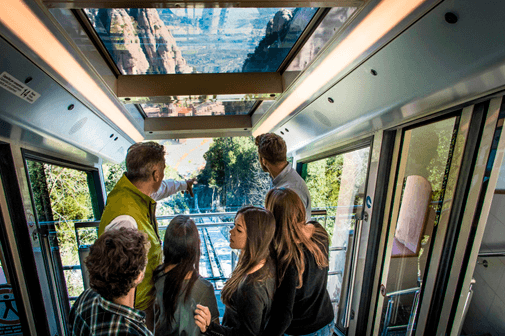 The Sant Joan Funicular today
In the modern day, the funicular transports 340,000 travellers a years thanks to its maximum capacity of 434 people per hour. In the first phase, the speed is 5.4kmph, whilst in the second phase, it doubles to 10.8kmph.
At the beginning of 2018, the engine room was modernised to allow for even more visitors
The carriages of the Sant Joan funicular are thought out so that visitors can fully enjoy the countryside and take panoramic photographs.
Once at the top, one can enjoy the viewpoint and the Aula Natura, a space that allows you to get to know the history of Montserrat, its climate, flora and fauna.
Also, it represents the start point of various excursions and walks, perfectly signposted and of different levels of difficulty and duration.
At WE Barcelona we organise personalised Montserrat excursions and monastery tours.
If you are visiting Barcelona, it is worth the time to become familiar with some of our best offers.
– Montserrat tour with horse riding in a world famous natural park
– Montserrat with an e-bike excursion
– Montserrat monastery visit with funicular railway ride and hike
– Fly over Montserrat in hot air balloon
– Montserrat tour in Helicopter