Barcelona Events
Superbowl in Barcelona: Best bars to see the NFL final

---
This year is the 53rd Super Bowl Championship you can see in Barcelona and we could not be more excited. Even if it takes place in Atlanta Georgia in the USA, there are many tourists who have organised their trip to Barcelona to coincide with the Superbowl.
The day of the Super Bowl is getting close and closer – it takes places next Saturday, the 3rd of February. At WeBarcelona we want to help you make sure that you won´t miss a thing during your visit to Spain.
This year couldn´t begin better. Fun, tourism and gastronomy all await you on your next adventure in Barcelona.
Are you ready?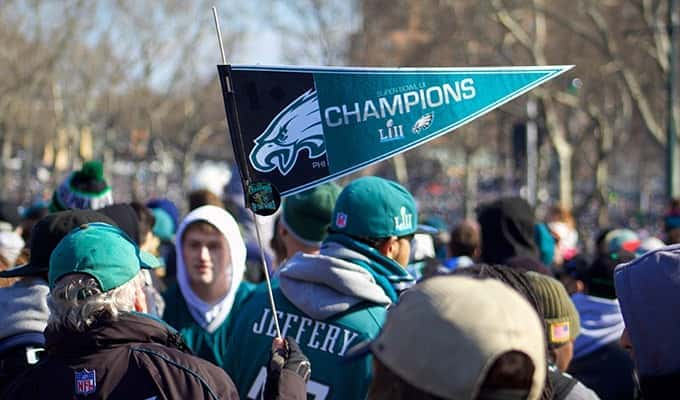 Where can I see the Super Bowl in Barcelona?
Once you have spent a few days in Barcelona getting to know the local cuisine and admiring the remarkable works of Gaudí, the time comes to plan how you can finish your holidays on a high.
Here, we want to share with you a list of bars in which we are sure that you will have a memorable third of February. Do you know any of them already?
The George Payne: Plaça d'Urquinaona, 5, 08010 Barcelona
Belushi's: Carrer de Bergara, 3, 08002 Barcelona
Sonora Sports Tavern: Carrer de Pamplona, 96, 08018 Barcelona
Four Points: Avinguda Diagonal, 161, 163, 08018 Barcelona
L'Ovella Negra Marina: Carrer de Zamora, 78, 08018 Barcelona
The Philarmonic: Carrer de Mallorca, 204, 08036 Barcelona
Flaherty's Irish Pub: Plaça Joaquim Xirau, s/n, 08002 Barcelona
Everything you need to know about Super Bowl LIII
If you aren´t a huge fan of this championship, at WeBarcelona we want to share a small masterclass with you so that you can survive and even enjoy the match in the best company.
The National Football League – also known as the NFL – is the organisation which decides the cities in which the championships are played. Altanta was chosen in 2016.
The american football season begins at the end of summer and finishes around the end of February. Each Super Bowl is identified by the corresponding roman numeral, for that reason, the name of this Super Bowl is Super Bowl LIII.
The team who have won the most super bowls is the Pittsburgh Steelers.
The broadcast of the final match is one of the most viewed broadcoasts in the US and one of the most watched annual events across the world.
In 2018, the performer in the famous half time ceremony was Justin Timberlake with the following performance: