Barcelona Events
Sant Jordi 2019: What to do in Barcelona

---
Have you ever heard of the Festival of Sant Jordi (Saint George's Day)? In this post we want to tell you about Sant Jordi 2019, which is celebrated on Tuesday 23 April, and here at WeBarcelona, we couldn't be more excited.
Although it may surprise you, this day stirs even more passion among the Catalans than the processions of Semana Santa. We introduce one of the most respected traditions in the whole city.
Barcelona in April… gifts of books and roses!
In this Catalan tradition, couples find a very good excuse for giving each other books and red roses. Originally, the flower was meant for the woman and the book for the man, but these roles are gradually having less social significance.
The popularity of this day is such that the idea of giving roses has even spread into companies, no longer just between lovers and loved ones.
During Sant Jordi, everyone takes to the streets, which are decorated with book and flower stalls. Every neighbourhood is made up with its finest regalia to celebrate this characteristic festival.
In an infinity of places, you will be able to find readings of texts and poems, book signings by their authors, human towers and live music… you won't want to miss out!
Barcelona blooms in the Sant Jordi festival, the best way to start spring.
If your next visit to Barcelona coincides with the Sant Jordi festival, don't hesitate to take to the street and breathe in the surroundings. Get ready to experience all the magic this day has to offer.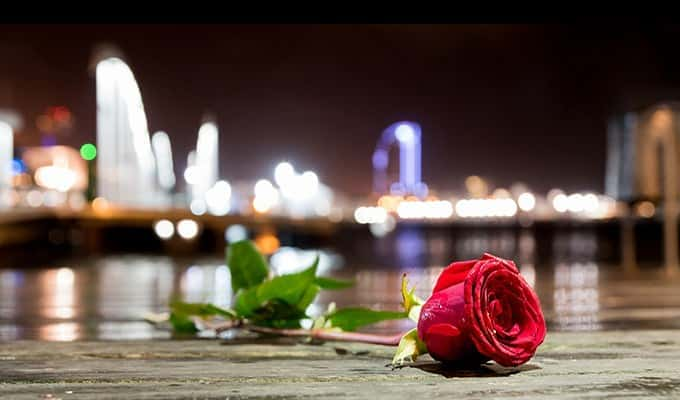 Discover the true origin of the Sant Jordi festival
Legend has it that a long time ago, an enormous dragon used to live in Mont Blanc Castle, Tarragona. The people, wanting to quench its thirst for blood and protect themselves, would regularly feed it animals to ensure that it would not attack them.
This continued until the time came when there were no animals left in the entire kingdom, so they had to start offering randomly selected citizens as a sacrifice.
Soon came the day when the princess was chosen. When she was inside the castle, a knight appeared and saved her from a tragic end, while slaying the dragon.
From the beast's blood, a beautiful rose blossomed. The knight gave the princess the red rose to demonstrate his love for her.
This explains why red roses are given…but what about the books? We'll tell you.
The day of 23 April is also known as Día de las Letras (Literature Day). On this very day, famous writers such as William Shakespeare and Miguel de Cervantes were born, which is the reason why the women give books to men.
Interesting, don't you think? Now you can see why we like it so much!