Barcelona Experiences
Free Things to Enjoy in Barcelona

---
Barcelona is always one of the favoured destinations of any traveler. In order to better get to know the Catalan city, any season is a good one. If you have already been here more than once, we are going to recommend to you some of the best free things in the city. For that reason, We Barcelona want to offer something more than simply the idea of walking down la Rambla until you arrive at the beach, where you spend the rest of your day.
If what you are looking for are more personalised experiences, we can also help you. We have made available a wide variety of activities to enjoy. Let yourself be guided by our expert personnel and focus on having fun in Barcelona.
Recommendation: Some timetables tend to change depending on the season, due to administrative changes at each location. Before arriving, it is best to make sure that the timetables here match those of the location you want to visit.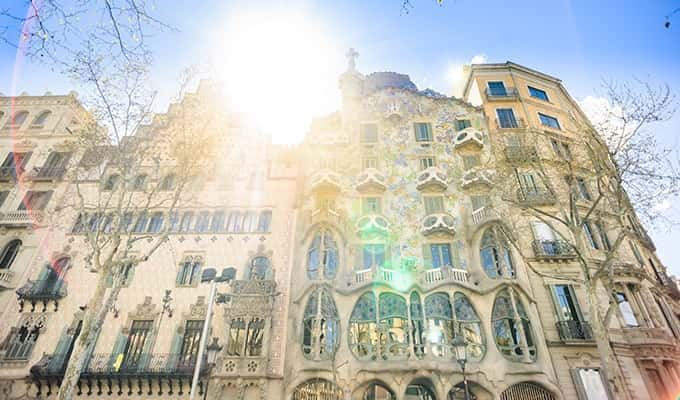 1 – Get to know Barcelona's hidden roman ruins
Throughout your stay you can appreciate what remains of roman society in many different places. From WeBarcelona, we recommend two key points
· Domus Aviniyó:
Appreciate the walls decorated with floral patterns and original trims from the first century and the beginnings of the second. You will be able to find this display on Calle d'Avinyó, 15. Entry is only free on Sundays between 10AM and 2PM.
· Temple of Augustus:
There is a roman temple located in the middle of gothic neighbourhood, at Calle de Paradis 10, to be specific. The four columns that given added value to this location are one of the best conserved roman ruins in all the city. Entry is free and you will be able to go in on Monday from 10AM until 2PM and from Tuesday to Saturday from 10AM to 7PM and Sundays from 10AM to 8PM.
2 – The best and most secret views of Barcelona
· Turó de la Rovira:
From these old anti-aircraft bunkers you will have a birds-eye view of Barcelona. You will find the precinct open all day with free entry. Will you prefer these views to Mount Tibidabo?
·The MNAC Terrace:
At the National Catalan Art Museum (MNAC) you will have access to a little known viewpoint over Barcelona. So that you can go in without paying you have to turn up on Friday or Saturday, from 8PM to 11PM, by the side door.
#lasco #lascaux #fun #18000ansplustard #streetart #barcelone #barcelona #barcelonastreetart #streetartbarcelona #bunkers #bunkersdelcarmel #cheval #chevalchinois #sagradafamilia #parqueguell #chevaux #horse #horses #lyonstreetart #artparietal #parietal #artrupestre #rupestre #graffiti #prehistoire #prehistoric #streetartparis #bordeauxstreetart #grotte #cave
3 – Immerse yourself in the museums
· Picasso Museum
The museum located on the Calle Montcada 15-23 bring together the early works of the artists amongst a wider selection of drawings and paintings. Entre is free every Thursday from 6PM to 9:30PM and the first Sunday of each month.
· Barcelona Museum of Design:
It stands out not just for what is inside, but also for its architectural exterior. Open since 2013 in the Plaza de las Glorias Catalanas, 37, you can entre free on Sundays after 3PM and also the first Sunday of each month.
4 – Appreciate the architecture and art
For this plan, is it always better to combine it with some bikes. Barcelona is a city that completely respects the bicycle, so don't hold back from enjoying your experience with their help. A route in which you can enjoy all the city's most monumental buildings awaits.
For that reason in WeBarcelona we offer our clients a tailor made tour. During the 4 hours that the route lasts you will be able to enjoy the best views accompanied by an explanation of each building. Inform yourself without compromise about the Gaudi Tour and enjoy Barcelona at the hands of professionals. Are you ready?
5 – The Born Centre of Culture and Memory
You will be able to find it at Plaza Comercial, 12 and it is totally free to enter. This cultural space is distinguished by its structure of melted iron and the archaeological remains it contains, from the city of Barcelona in 1714.
6 – Encants Market
In this space you can find a second-hand market. It is a modernist building that contains different types of flea markets spread out over different floors, although that which is found on the ground floor is the best known.
You will find it in Calle Castillejos number 158. And as you explore, what vintage gem will you find? Forget the typical souvenirs of Barcelona, here you will find something to give you a more memorable visit.
Este finde @encantsbarcelona celebra sus 5 años en la nueva ubicación. Habrá todo tipo de actividades, como un circo ambulante, pinta caras para los niños ¡y música en directo! Y el lunes 24 se organiza el Mercado de la Mercè, en colaboración con el @fleamarketbcn,@Discogs y el @bcnbeerfest. Un acontecimiento único que contará con cata de cervezas artesanas, vintage market, artesanía, el mejor diseño local y un espacio especial dedicado a los vinilos!