Barcelona Experiences
Ziplines in Barcelona: Enjoy with family or with friends!

---
At WeBarcelona we like to enjoy the fresh air with those closest to us. Fortunately, this Catalan city makes it easy for us to offer infinite options. With that in mind, today we want to speak to you about the ziplines in Barcelona.
For sure, among your childhood memories there's one in which you were having fun with your friends or siblings, propelling yourself from one tree to another. Do you not fancy reliving those memories?
If, on the other hand you have never been given the chance to hop on a zipline, don't worry. In Barcelona you can find everything you need, all you need to do is psych yourself up for having fun!
Are you ready for your next experience?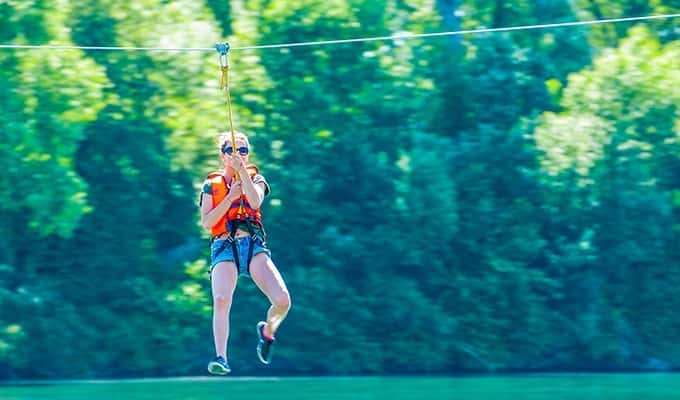 Where can you find ziplines without leaving the city of Barcelona?
At WeBarcelona we like to recommend all kinds of activities which allow you to enjoy your holidays in Spain to the max.
Maybe you have already thought about a bicycle tour through the most characteristic spots, or discovering the city's best museums and buildings but… does an open air activity appeal to you?
Enjoying an afternoon on a zipline is easier and cheaper than what you may imagine. In case you don't have the option of going for a weekend in the car, or taking public transport on a prepared circuit, at WeBarcelona we show you the best solution.
Below, we want to share with you the best list of locations where you will find a zipline. As you may notice, you don't have to go very far to enjoy it like you did in your childhood.
Parc de Cervantes
Parque de Joan Miró
Plaza de Virrei Amat
Parque Central de Nou Barris
Barcelona Bosque Urbano
The best zipline circuits in Catalonia
Across the length and breadth of Catalonia you can easily find a large collection of companies that offer this kind of adventure activity. The good weather is about to arrive and this is an experience worth reliving!
What's the best thing about this option? That it allows you to combine an afternoon of sports with your family with a morning of tourism around Barcelona. Get ready to discover the prettiest villages near the city.
And this is why we now want to show you where you can find five of the best zipline circuits. Did you know any of these?
Jalpí Aventura
Can Juliana Centre d'Oci
Climbat La Floixarda
Duaka Adventures
El Bosc Vertical Mataro
Let the professionals guide you. Accompany your adventure experience with all the necessary advice and protection. Helmet, gloves, harness, previous explanation and a host of circuits available. You only need to wear sports clothing and the company will take care of the rest.
Nobody will be left feeling indifferent. These kinds of circuits are widely prepared for all ages and levels.
We offer you the best idea for celebrating a birthday, school excursions, a leaving do or even to organise a team Building session among work colleagues.