Barcelona Experiences
The most tasty plates to get to know the gastronomy of Barcelona

---
Spanish gastronomy is one of the tastiest and most delicious in the world. And that is not just because we say so ourselves. Every tourist that comes and tries it believes it too.
It is something undeniable.
If you want to give an authentic tribute to Catalan gastronomy by tasting the best dishes, we can recommend you some things that will make you drool. From the lightest to the heaviest, including desserts and soups, these are some of our favourites.
Crema Catalana
Who says you can't start with a dessert. Crema Catalana is Catalonia's most famous dessert and there is no traditional restaurant worth its salt that does not offer it.
This delicious dessert has a base of cream custard with egg yolk and is covered with a thin layer of caramelized sugar. A popular way of trying the dessert is to break the sugar coating with a table spoon and listen to the noise as it breaks. An authentic delight for those that love to eat.
Snails
If you visit Spain for the first time maybe you will be surprised to find snails. Even if they are also eating in other regions such as Aragon or Madrid, in some parts of Catalonia like Lleida, they are a specialty.
There are many ways to prepare snails but of the most traditional is a la llauna – with salt, garlic, parsley, pepper and sweet pepper. It is also possible to eat them with tomato sauce or with a sauce made of pepper, garlic and bay leaf.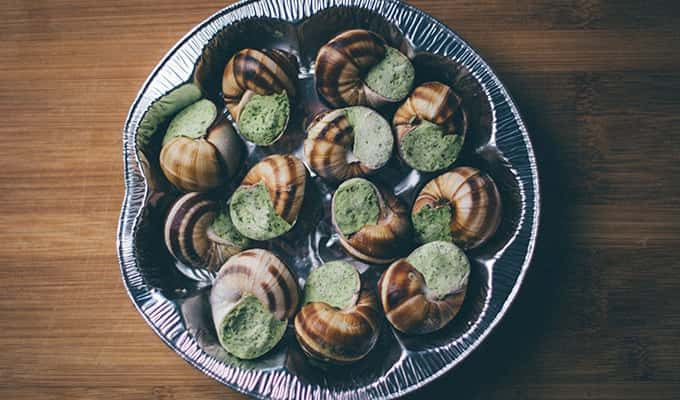 Calçots and butifarra
One of the greatest traditions in Catalonia is called the Calçotada, which takes place in February. This month is the season of calçots, a very popular vegetable which frequently comes grilled and accompanied by romesco sauce.
Furthermore, they are also often accompanied by grilled meats such as butifarra sausages or chicken.
Escalivada
Following up from this is a lighter dish for those who love vegetables. Escalivada is a very healthy dish that one prepares by using various grilled vegetables including pepper, aubergine, onion and tomato.
It is very easy to prepare and you can also find it in traditional bars across Catalonia. It is also a traditional dish you can find in Aragon or in Murcia.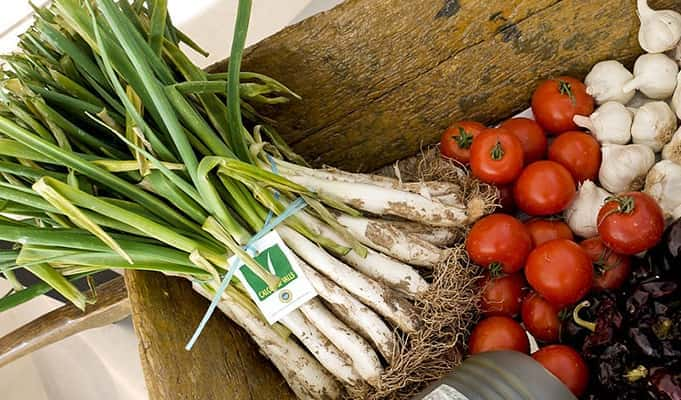 Trinxat
For cold days and for winter Trinxat is a great dish. It is a plate from the Cerdaña region of Catalonia, very close to Andorra.
It is made from a base of ground up potato and cabbage mixed with bacon and garlic. Food made to bring someone back from the dead when we need to warm the stomach.
Esqueixada
If you fancy a light salad that is also delicious and flavourful, order an esqueixada. This dish has ingredients such as tomato, onion, olives, green pepper and salted cod.
All these elements are eaten in small pieces and are mixed with olive oil and vinegar. It is a very delicious option for those who fancy something healthy.
Escudella
It is very possible that if you visit Barcelona during the winter season you will see restaurants advertising escudella I carn d'olla. Escudella is a soup that is often eaten during the cold months of winter.
It is a very tasty soup that is made with boiled vegetables, meats and bones which give it a lot of flavor. Additionally, people often add galets, a type of pasta of the shape of large snails and pilota, a type of meatball made with minced beef, flour, garlic and parsley.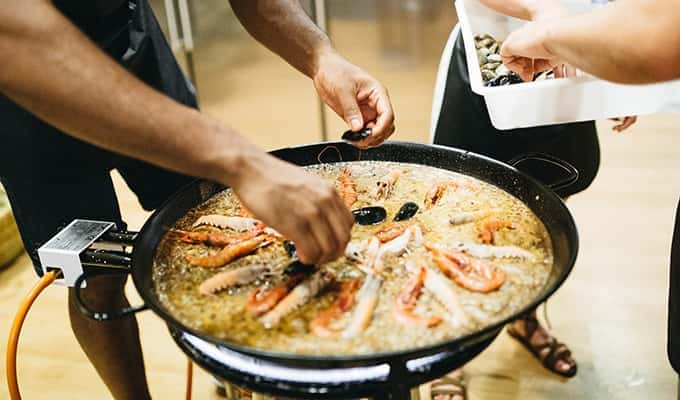 Maybe you also want to try well-known dishes such as paella or fiduea. However, even if you can try these dishes in almost any corner of Cataluña, it is not a traditional Catalan dish. Anyway, we recommend that you learn to cook paella like an authentic local here.