Barcelona Experiences
Where to eat Paella and tapas in Barcelona (like a local)

---
Gastronomy is one of Barcelona's greatest attractions.
It is varied, healthy, and, above all, delicious. For that reason, the majority of tourists that visit the city don't want to miss the opportunity to try typical dishes in the restaurants where they cook them best.
Two of the most famous dishes are paella and tapas.
Even if their origins can be traced to other parts of Spain (Valencia and Andalucía), in Barcelona there are bars and restaurants specialized in Paella and Tapas that are truly delicious.
In this article we are going to present that best places to eat paella and tapas in Barcelona and we will recommend to you some unforgettable experiences for you to get to know all the secrets of Spanish cuisine.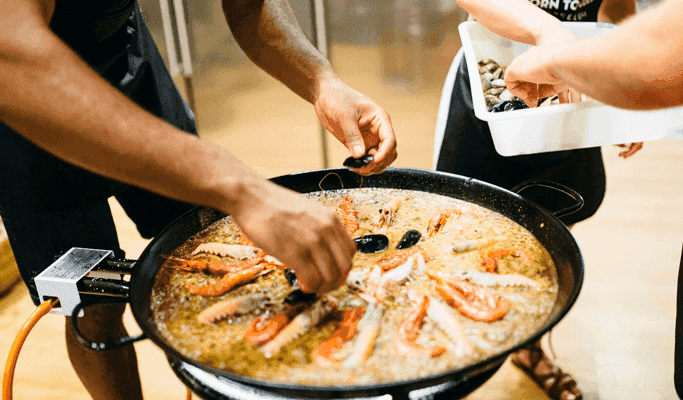 The best paella restaurants in Barcelona
Our first advice is to avoid eating Paella in the restaurants in very touristy neighbourhoods, such as those in la Rambla or next to Sagrada Familia, for the poor relationship between price and quality.
Amongst the best paella restaurants in Barcelona, we have identified these three.
Suquet de l'Almirall (Passeig Joan de Borbó, 65). This is one favourite restaurants of locals, that has decades of history charming with its seafood dishes and obviously, with its paellas. Fish and seafood of the highest quality and its homemade 'fumet' (broth) give the paellas a unique taste.
L'Arrosseria Xàtiva (Carrer del Torrent d'En Vidalet, 26 y Carrer Bordeus, 35). These are two restaurants specialised in all types of paella, from paella valenciana (a meaty paella) to the standard. The ingredients are fantastic, from the meat or seafood to the rice from the delta del Ebro.
7 Portes (Passeig d'Isabel II, 14). This is a distinguished restaurant from the 19th century, visited by celebrities as well-known as Orson Welles, Picasso or García Lorca. It is specialised in Catalan food and paellas and maintains its traditional recipes.
Paella cooking class
If in addition to eating the best paellas in Barcelona you would like to know how to make them, we recommend that you enjoy a paella cooking class with a professional chef . It takes place in small groups and afterwards you can enjoy a typical lunch, with gazpacho, patatas bravas and paella.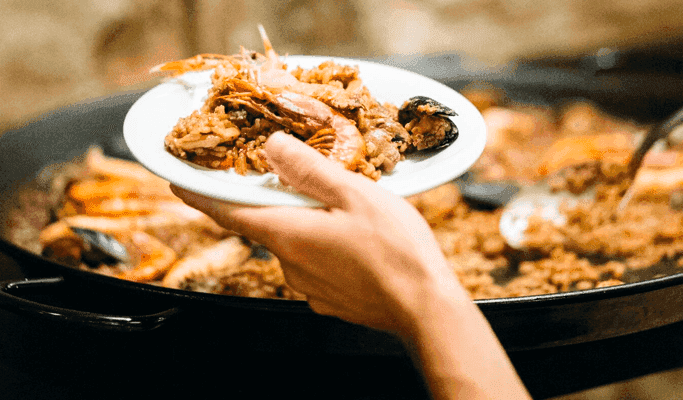 The best tapas bars in Barcelona
In some Barcelona bars it is typical to serve a free tapa together with a drink, even if they aren't all places where seeing the tapas on the bar begins to make your mouth water.
Amongst the best tapas bars in Barcelona we recommend these three:
La Esquinica (Passeig de Fabra i Puig, 296). This Aragonese tapas bar is one of the best known in the city thanks to its high quality and economical prices. They don't take reservations, but it is a reasonably big restaurant.
O'Retorno (Carrer Comte d'Urgell, 168). This is a typical local place that you would never enter, given that from outside it seems abandoned, but it hides on the best tapas restaurants in Barcelona. It is a traditional Galician bar specialized in octopus, seafood and fresh fish.
Quimet i Quimet (Carrer del Poeta Cabanyes, 25). A bar with its own tapas, wine, vermouth and beers where you can eat and drink on foot, just as tradition commands. It features in all the guides and that is not for nothing, given that it has a huge variety of tapas of high quality.
El Born Tour with tapas dinner
We Barcelona offers a complete pack to able to enjoy one of the most authentic districts in Barcelona together with good food and a show. The Born Tour with Flamenco and Tapas is perfect for getting to know the culture and gastronomy from up close.